Stocks to outlive Ragnarok.
---
DISCLAIMER
Investing in stocks means risking losing the investment. Never invest more than you can afford to lose.
These stocks have been picked by a person without any degree in finance or economy. Please read the descriptions of how stocks are picked – it's not by reading the company budgets and financial reports.
This is just a watchlist, not investment recommendations as such. Also, because this is not my main occupation, the list is not particularly thorough. And it's work-in-progress, a living document.
The presence of a stock on this list does not express an expectation of a sudden stock value increase in the near future.
It's been a decade since the previous bubble burst. The world's largest economy is headed by a toddler. The next financial crisis might be just around the corner. Many stocks could implode then.
I did myself invest tiny amounts of money in each mentioned stock.
---
Criteria
To reiterate: I don't have a degree in finance. I did read some books about markets and money (by Nassim Nicholas Taleb, Eric Beinhocker, and Ole Bjerg) that I strongly agree with. And I do occasionally read some financial media. I even listen to two podcasts about money some times. I get at least one financial newsletter by email! And I have built a view of the world in part based on my research for the Ecowar texts.
Stocks and companies mentioned here live up to the following criteria:
Absolutely zero fossil (or nuclear) fuel
No mass destruction, tactical or assault weapons
No production of chemical fertilizer, pesticides or otherwise ecocidal materials
Preferably companies with solid ethical profiles, diversity policies etc.
Preferably companies in renewable energy, sustainable production or similar sectors
Companies that have some good history and I deem less likely than the average to bankrupt anytime soon
You are most welcome to comment and criticize!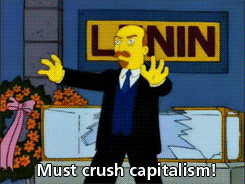 ---
Having said all of the above, stocks might not be a bad idea even to "normal" people. As Pikkety has shown, having stocks is often better than having money. Think of it as a kind of political consumerism – rather than supporting your central bank, you can support a company you agree with and hope for. And investing in stocks can be easy and cheap these days. No one says an investor need to buy millions of stocks at a time – you can buy just a few at a time if you want to. Finally, following the market with one eye is just another aspect of following what's going on in the world.
The watchlist
Adidas AG (ETR:ADS, clothing)
You know them. Recommended by ethical investor group. Already sells shoes made from plastic harvested in the Pacific Ocean and have wowed to only use recycled plastic by year 2024. Then again: If Trump wrecks the world economy, the pricey clothing brands could suffer?
AXA SA (FRA: AXA, financial services)
A very large and well established insurance company probably more solid than the average currency. Was recommended as an investment by a financial newspaper. Divesting billions of euros from coal and tar sands while pledging green investments. Then again: Couldn't insurance companies get floored by weather damages? Total ESG score: 86 (Leader)
Trelleborg AB (STO:TREL-B)
Someone has to produce advanced materials. "[Trelleborg products] reduce environmental impact by saving energy, cutting emissions and protecting the soil." ESG score: 69 (average, but not low).
UPM-Kymmene Corporation (UPM, forestry)
A large company with a lot of investment in the Finnish forests. Into sustainable forestry and developing products for a circular economy. Recommended by ethical investor group. Then again: Looks like all Scandinavian forests could go up in flames due to climate change. Total ESG score: 76
Vestas Wind Systems (CPH:VWS)
Someone has to produce those wind mills. Total ESG score: 82 (Outperformer).